What is Megapixel Technology?
Surveillance Integration has installed a variety of IP megapixel cameras for many commercial businesses in the Central Valley. IP megapixel cameras provide cutting edge video quality in which the older standard analog CCTV cameras can not compare to. With an IP megapixel camera coupled with a good set of camera lens, you will be able to see sharp and high detail images. Viewing objects such as people, incidents, license plates, graphics, and lettering text can be easy to identify with megapixel technology. The visual quality not only improves, but also the viewing coverage area increases with this technology. This is true if comparing pixel to pixel in resolution between a standard analog camera and a megapixel camera. The resolution of a megapixel camera can be over 2.5 times the that of a standard analog camera.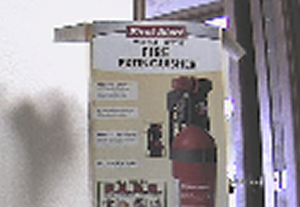 Analog Standard Resolution
CIF (352x288)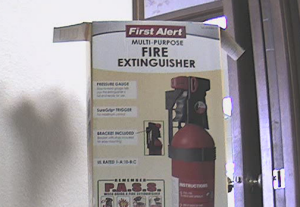 IP Megapixel Resolution
1.3MP (1280x1024)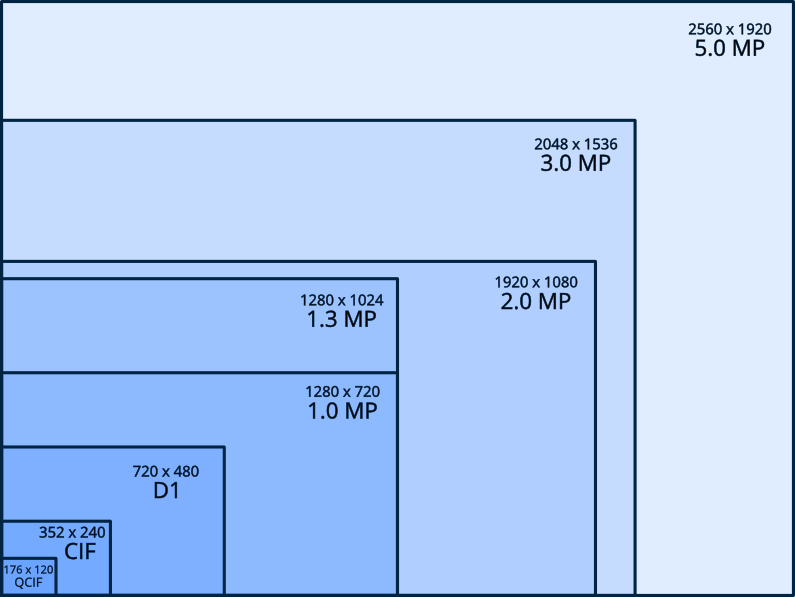 Figure-1, shows a comparison between different resolutions and how their viewing sizes compare with each other. Standard CCTV resolutions are D1 (720 x 480), CIF (352 x 240), and QIF (176 x 120) while megapixel cameras are 1.0MP (1280 x 720) and up. D1 is the highest resolution a standard analog CCTV camera can output. From Figure-1, while comparing the resolutions of D1 and megapixel cameras, you'll notice that the megapixel camera covers a larger area than standard analog cameras.
Resolution Test
For the Figures-2, 3, and 4 below, an ISO 12233 Test Chart was used to test the performance and quality of a standard analog camera, 1.0MP camera, and 2.0MP camera. The ISO 12233 Test Chart can be downloaded from http://www.graphics.cornell.edu/~westin/misc/res-chart.html. The test chart was printed at 1200 dpi and used on an 11'x17' 28lbs 100 brightness sheet of paper. This was a basic test performed to derive the differences in image quality to resolution from the different cameras. Each camera was configured about 38 cm in distance from the test chart and their lens were tigthen, widen, and focused to get a good view of the overall test chart. A snap shot is then taken from each camera in PNG format.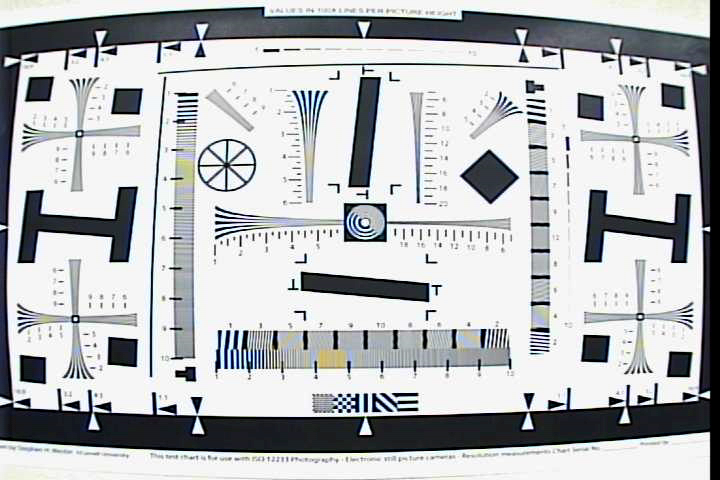 Figure-2 shows an example of how a standard analog camera performs while using an ISO 12233 Test Chart printed at 1200 dpi. The image is an actual 720 x 480 (345,600 pixels) resolution image taken from a standard analog camera. The image shows the test chart but the texts, numbers, and lines are blurred and hard to identify.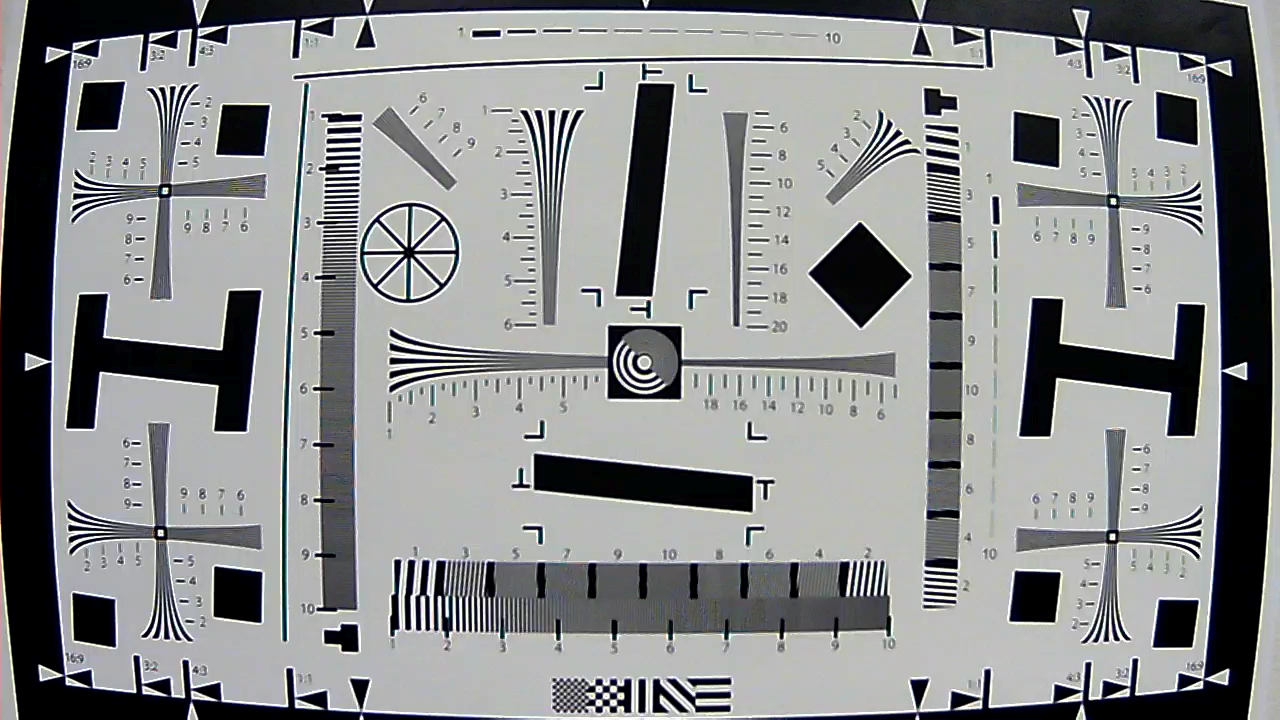 The camera in Figure-3 gave a better result compared to the camera in Figure-2. With a 1.0MP image sensor, the image produced is approximately 921,600 pixels. As shown, some of the numbers, text, and lines can be identified.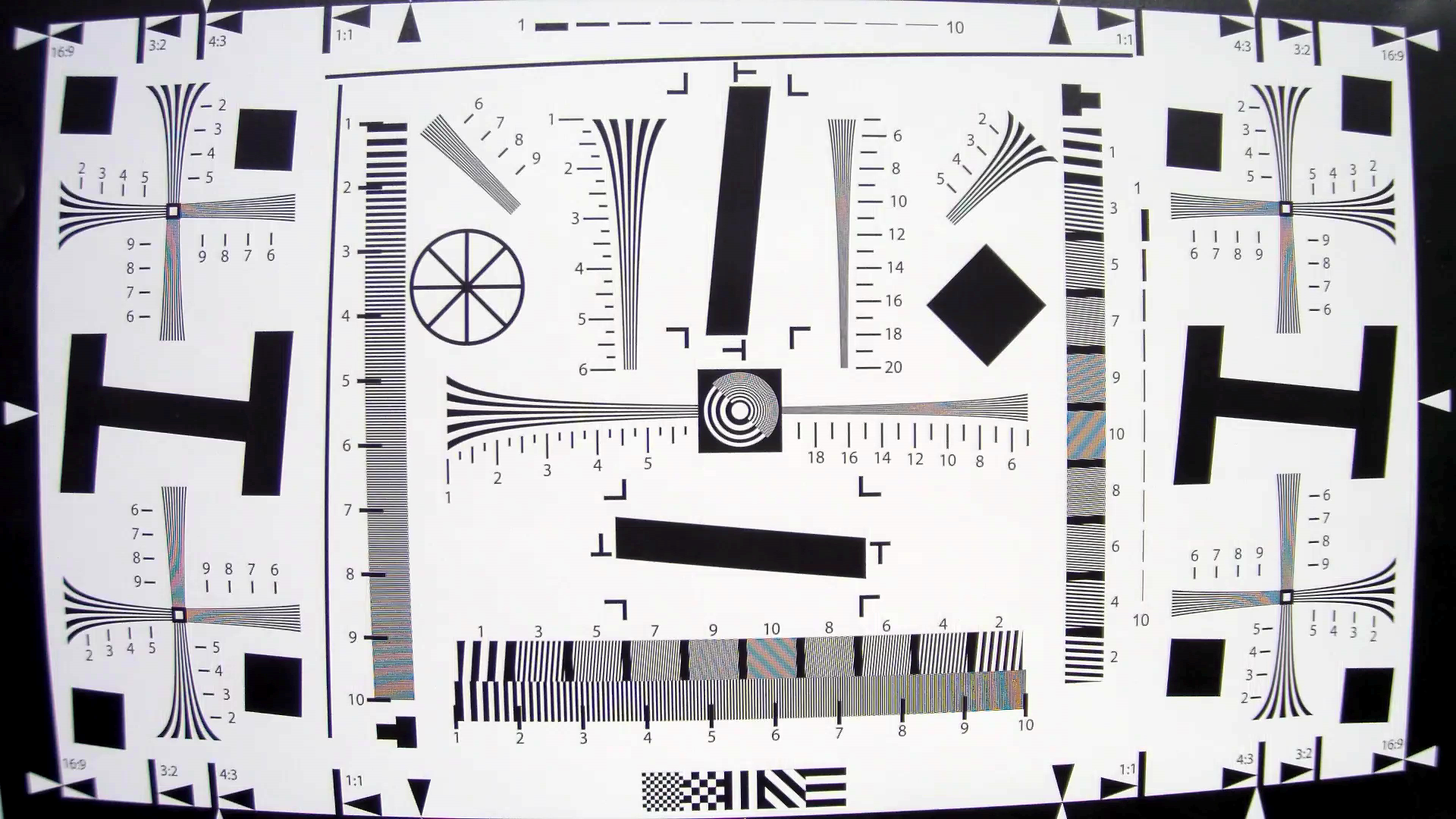 Although the image for Figure-3 was significantly better than Figure-2, the image detail was not as clear. For Figure-4, a 2.0MP camera was tested under the same circumstances as the previous cameras. It was discovered that the image produced was extremely clearer and sharper compared to the first two cameras. The image produced from the 2.0MP camera consisted of 2,073,600 resolution pixels and gave a better result in quality, detail, and image sharpness. The text, numbers, and lines are a lot clearer to read and distinguish.